EVkids Camp
---
Apply to be a camp counselor today!
Spend a week or two in the Green Mountains of Vermont with a dedicated team of education professionals hosting small groups of low-income Boston children and teens for a unique summer camp experience. For 40 years, EVkids Camp has provided a life-changing immersion in community life at our own nine-acre site in the Green Mountains of Vermont.
Interested in sending your camper to EVkids Camp?
Fill out the EVkids Camp Interest Form today!

Camp Life
EVkids Camp is a family-style experience where campers learn respect, communication, and how to serve and be served. Campers, counselors, and co-directors all share communal space and the responsibilities of cooking and cleaning up.
A rotating team of campers plans and participates in cooking lunch and dinner each day. Whether the camper is new to the kitchen or a seasoned chef at home, cooking together builds community, fosters care for each other, and teaches kitchen safety.
Camp Staff
With three professional Camp Co-Directors and six college-age counselors, EVkids Camp offers a 2-to-1 camper-to-staff ratio. Counselors have experience working with youth and complete a multi-day training prior to campers' arrival. All staff are CORI/SORI checked and trained in child safety.
Apply to be a camp counselor today!
Camp Safety
This year, EVkids Camp will follow CDC and the Vermont Department of Health guidelines with all camp sessions. All campers and Camp staff will need a negative COVID-19 test or vaccination documentation to attend. Off campus outings will be limited and will observe social distancing guidelines. The health and safety of campers and staff is the top priority of EVkids Camp.

Camp Activities
Workshops
Groups of campers rotate through different workshops each day, planned and led by counselors. Activities range from archery to yoga, from chess to ping pong, from drawing to volleyball.
Swimming
Daily trips to nearby Blueberry Lake allow for respite and cooling off. An on-staff lifeguard determines each camper's swimming level and oversees the kids as they enjoy the water. The adjacent blueberry bushes for which the lake are named occasionally provide the ingredients for dessert later that evening.
Hiking
Every week, EVkids campers will make it to the top by hiking one of the many nearby mountains. Hiking is an opportunity for campers to push themselves physically and mentally. Staff and campers will work together to overcome obstacles on the hikes, both physical and psychological, and everyone enjoys munching on a sandwich while gazing out over Vermont from the top of a mountain.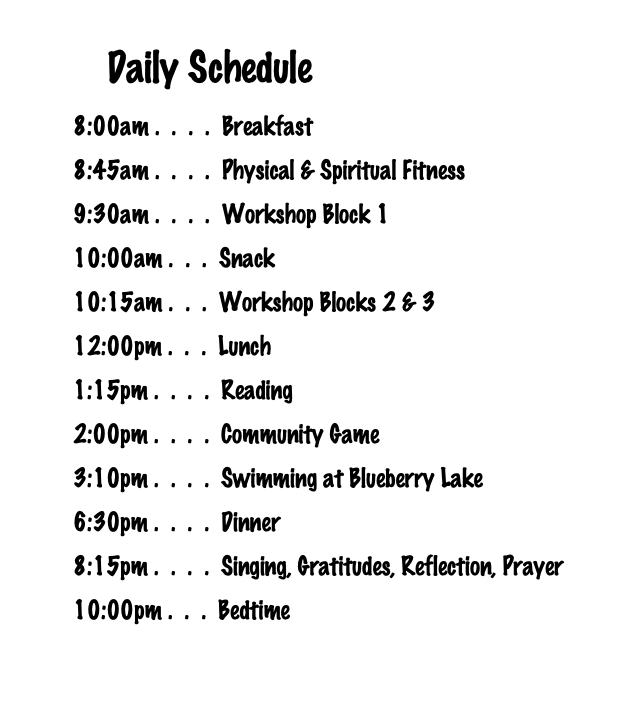 Interested in sending your camper to EVkids Camp? Fill out the EVkids Camp Interest Form today!